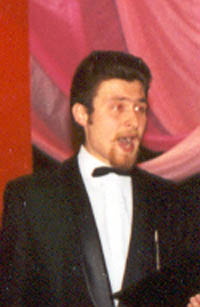 Bogdan SZMEK
was born in Třinec in 1979. After finishing studies at the Polish Secondary School in Český Těšín he became a student of the Faculty of Medicine at Palacký University in Olomouc.
In 1997 he found and became the art director of chamber choir "MUSICAE AMANTES." Three years since its foundation the choir took part in the celebration of ten years of existence of "Wspólnota Polska" (compatriot organization). During the celebration the choir performed in the Royal Castle in Warsaw.
During his studies at the Secondary School he was the member of famous school choir "COLLEGIUM IUVENUM" for four years (1993-1997) and after graduating from the school he became a member of Polish mixed choir "COLLEGIUM CANTICORUM". Since 1999 he also sings in the Academic Choir "ŽEROTÍN" that is a part of Moravian Philharmony in Olomouc. He is also one of the charter members of the new mixed choir "CANTICUM NOVUM" of our organization, where he currently works as repétiteur.
He is also well-known in our region in his folklore activities. He is not only a member of mountaineer bands "ZORÓMBEK" and "SÓMSIEK" in the scope of our organization but also of people's ensemble "BYSTRZYCA" MK PZKO in Bystřice.